FRANSSENSTINE.COM
most images clickable
LADYLAND

77 X 83
on view at Dolby Chadwick Gallery
Dolby Chadwick Gallery


Sherie' Franssen
Flesh and Blood
October 4 - 27, 2012
Opening Reception: Thursday, October 4; 5:30-7:30 PM
www.dolbychadwickgallery.com

Fool For Love (2012), oil on canvas, 65'' x 43''

Flesh and Blood, an exhibition of new oil paintings by Sherie' Franssen, will open at the Dolby Chadwick Gallery on Thursday, October 4, 2012. As an accomplished abstractionist whose saturated gestures swirl across her paintings' surfaces with great athleticism, it is therefore surprising to learn that, within these very same paintings, it's the presence of the figure that poses one of Franssen's greatest challenges. Though she does not paint figures outright, figural elements act as catalysts that enliven her work with an important suggestiveness. The figures and landscapes, however, are not actually discernable, not even for Franssen: "I want the paintings to simultaneously maintain a state of movement and suspension where the viewer is left with a sense of uncertainty about what is seen. That's the tension that interests me as a painter. I'm after a sense of in between-ness provoked by how painted gesture accumulates." If a recognizable figural form coalesces, it not only undermines this critical tension but it also becomes a hot spot that prevents the viewer's gaze from moving fluidly through the composition, grasping answers that appear and then swiftly slip away as visual information emerges and retreats. Like in a Hollywood horror film, once we see the monster, the suspense that had sustained our intrigue quickly and irrevocably deflates.

Shadowsmear (2012), oil on canvas, 80'' x 70''

A brilliant dynamo of reds, pinks, oranges, and yellows, Fool for Love (2012) radiates with the electricity of Franssen's suggestive prowess. As she explains: "I like to start with a salmon-pink area that's figural in the traditional sense. However, this figure could easily flip into a landscape as I work. Then these figural elements start to come and go, embodying a type of movement that mimics how we see things in real life. When we look at objects, we never see them as a whole." Her paintings push our perceptive sensibilities to the edge, skirting the line between the recognizable and the unknown in order to heighten our awareness and tune us into the beauty of the fleeting.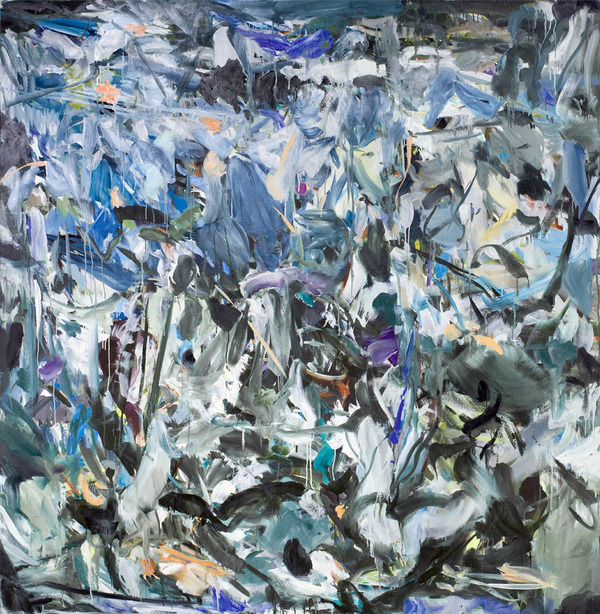 Slippy (2012), oil on canvas, 67'' x 65''

This current body of work, Franssen explains, comprises one her most personal artistic undertakings yet. She relies upon intuition and emotion to make her paintings, themselves the products of an inner necessity, in order to reach a fragile threshold. "I refuse to make a gesture for the sake of making a gesture," Franssen explains, "there are a lot of things you can lean on as an artist—a lot of ways you can rely on your skill." Instead, Franssen strives for a freedom and candidness that can only be borne of risk. She looks to Willem De Kooning, whose retrospective at New York's MoMA she visited numerous times last fall, as a source of inspiration. "People were really conflicted about his work and didn't always have nice things to say about it. But his art is so honest and full—it goes beyondthe surface." Alluding to the tension between honesty and skill, Franssen remarks "people thought his work was ugly, but the irony is that he was a great draftsman." For Franssen, arriving at that space of authenticity is the greatest, though not easiest, of feats: "it's always a battle to surrender the will and the desire for control. I try to have confidence in myself; the best things happen when I surrender. After that, there's only opportunity." The "narratives" thus expressed by her paintings derive from the confluence of the artist's emotional logic and the oil's material properties rather than from reason or formal objectivity—the story is in the honesty of the gesture, the sensual in the materiality of the paint.

Be My April Fool (2012), oil on canvas, 45'' x 41''

Sherie' Franssen was born in Torrance, California, in 1952 and earned her BFA in Drawing and Painting from California State University, Long Beach, in 1999. In addition to exhibiting in numerous museum shows and special exhibitions—including HEADS, the 2011 show at the Dolby Chadwick Gallery curated by Peter Selz—Franssen has had her works acquired into prominent private collections across the country. Her exhibitions have been reviewed in The San Francisco Chronicle, The Los Angeles Times, Art Ltd., and New American Paintings. This will be Franssen's fourth solo show at the Dolby Chadwick Gallery.

For more information on Sherie' Franssen, please visit our website or email info@dolbychadwickgallery.com
My girls Zuzu and Sadie
Paintings
Cadaver Drawings
Drawings
Artist's Statement
Favorite Links
Sherie Franssen Inc. 2012
All Rights Reserved
mailto:sherie@franssenstine.com
714 965-6324 leave message
10/01/2012